Hi everyone and happy July! I can't believe we're already approaching the second half of the year and that I will be entering my fourth month of bullet journaling. I must say though, this system has been life changing for me. It has made me far more productive, allowed me to tap into my creativity in ways I never thought possible and has just been an absolute blast! Today I will walk you through my set up for July and I kept things very similar to June, with minor tweaks here and there. So let us begin!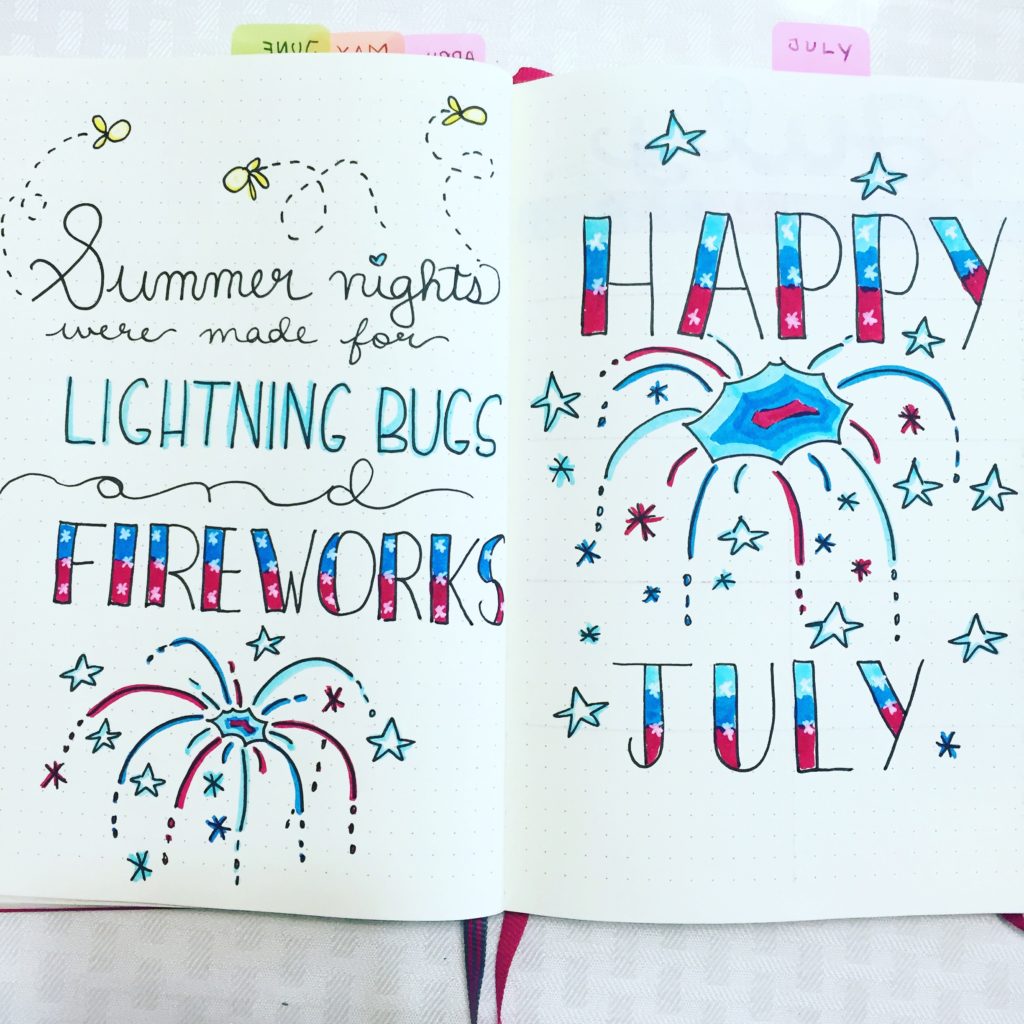 The Cover Page
I love having a cover page to separate out the months in my bullet journal. It not only allows me to add my artistic flair, but helps keep me organized when I use a theme for each month. For this month, I went with a fireworks and red, white and blue theme in honor of the Fourth of July, of course. I found a cute quote on Pinterest, which I found was SO fitting to not only incorporate the holiday but summer nights as well. Using my Tombow Dual Brush markers and UniBall Signo white gel pen, I created bold letters with an ombre effect, then used my white gel pen to create little star details within the letters. I added some cute doodles of lightning bugs and fireworks using my Faber Castell Pitt Artist Pen in the M size, and voila! My cover page is all done!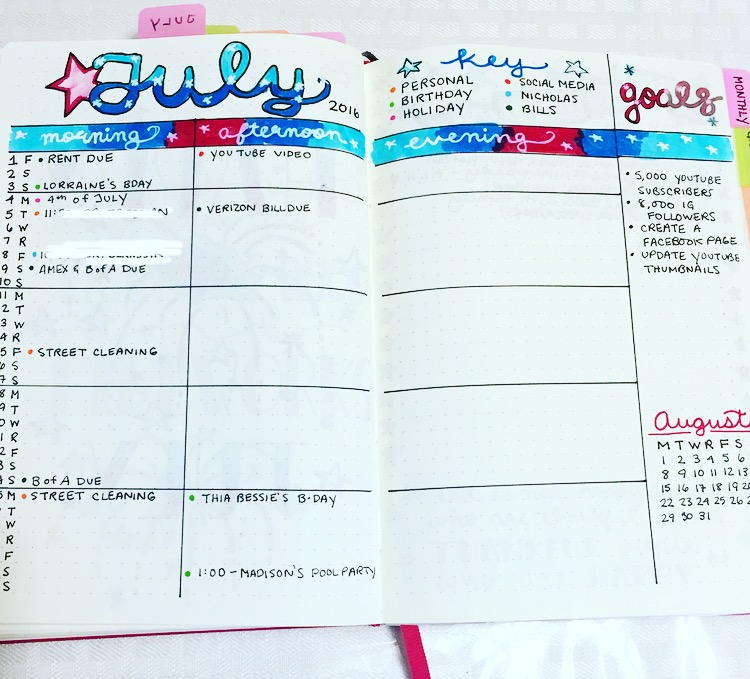 Monthly Page
Continuing along with my theme, I carried along the use of my Tombows and white gel pen and continued to use this monthly spread that is divided in three sections, inspired by Boho Berry. I find that this layout really seems to work out for me, having the days separated into morning, afternoon and evening sections. I still left a space for my key and goals I want to tackle for the month. The only change I made was to add a mini calendar on the lower right hand corner for the upcoming month, that way I can refer to it at a glance if need be.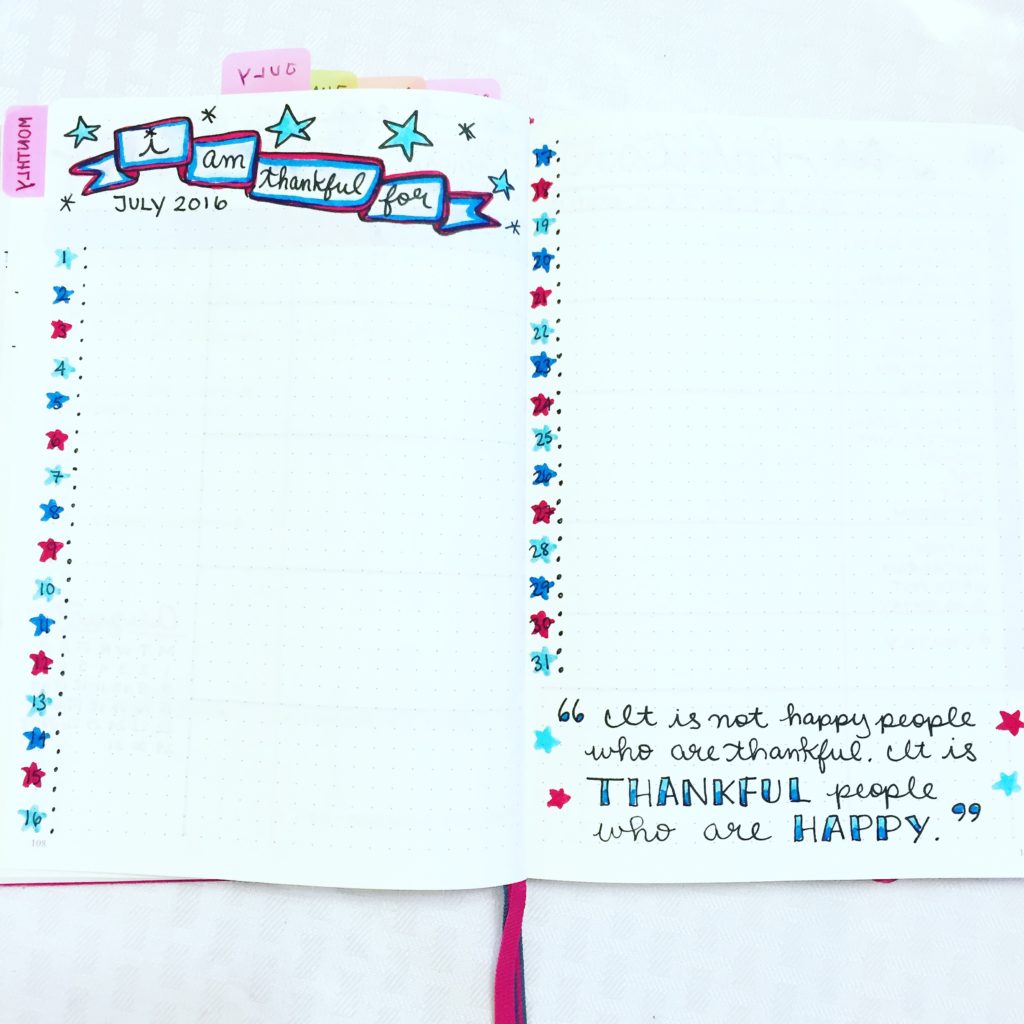 Gratitude Log
This is by far one my favorite features in my bullet journal and I haven't changed it much since June. I like to switch out a new gratitude quote each month, and I keep it at two things to be grateful for each day, that way it fits nicely into a two page spread. I swapped out the numbers with circles with stars, to make it look more festive.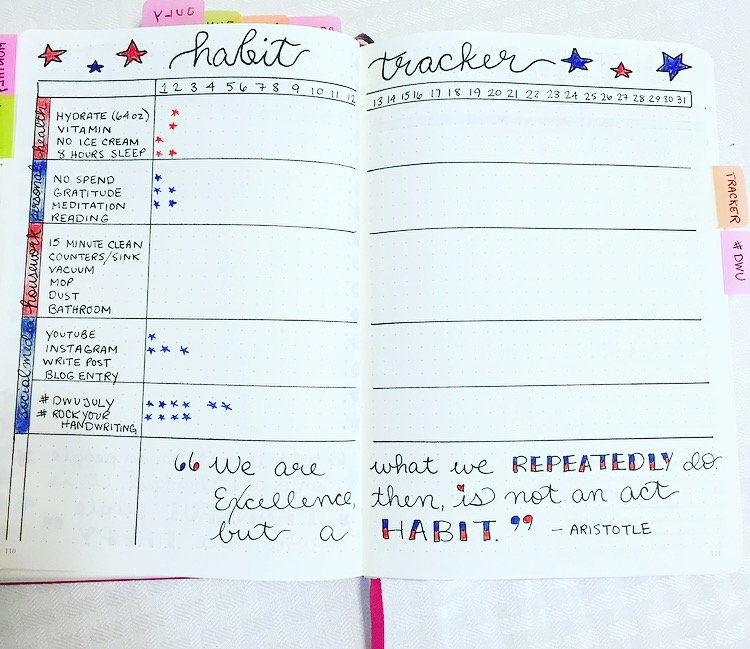 Habit Tracker
As much as I loved having my habit tracker down to one page in my bullet journal, I found it hard to match up the vertical and horizontal components each day in checking off the box. So I spread it out over two pages, but kept the idea of categorizing my habits with tabs just to make it even that much more organized. I used my Prismacolor Premier colored pencils in this page, and created a gradient effect in the tab boxes using my colorless blender. Since I had extra room on the bottom I added a famous quote by Aristotle that seemed to be fitting, and now makes the spread look more complete.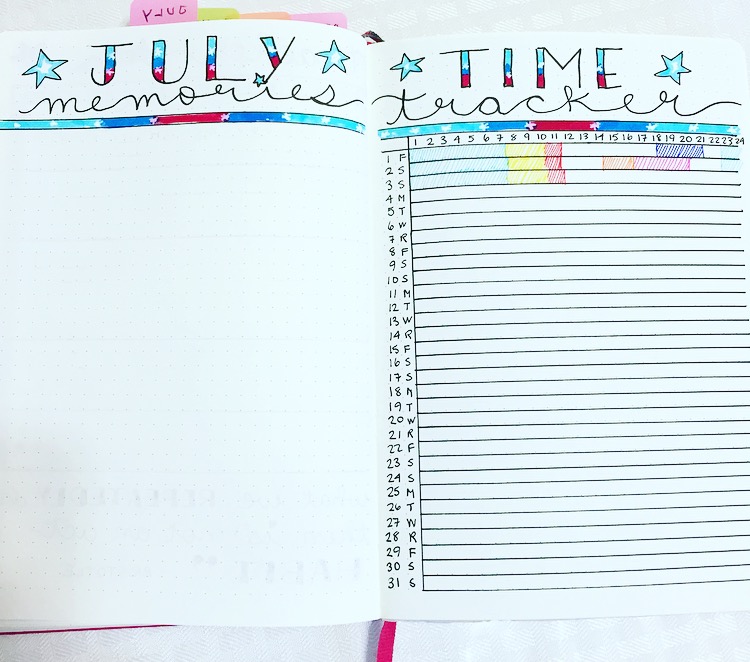 Memories and Time Tracker
I kept these pages exactly the same as I did in June and loved, loved, loved the idea of having all my time trackers for the month on one page. It saved me so much time from having to write them out each day and it was really neat to see an overview of how I spent my month at a glance. If you are curious about how I go about using my time tracker, check out my Daily Planning video on my YouTube channel, where I go in depth on my color coding system and such.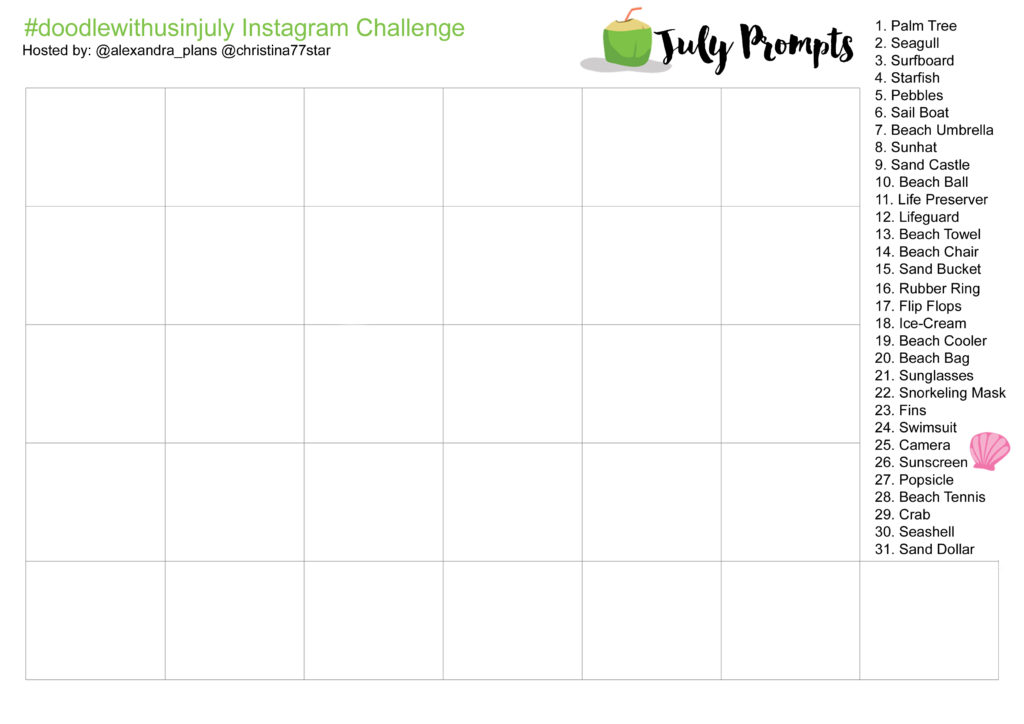 #doodlewithusinjuly Challenge
And last but not least, I created a section for the #doodlewithusinjuly challenge hosted by me and Christina. Using the free printable which you can download here, I printed it on a shipping label, trimmed it, and stuck it right into my bullet journal. The printable is such a time saver for me, since it has all the boxed drawn out along with all the prompts. For more information on the challenge, check out my previous post! There's still time for you to join us and Christina and I were blown away by last month's response! You guys are seriously talented!!
And that's pretty much it for my bullet journal setup this month. If you want a more in depth view and explanation, check out the video on my channel showcasing my setup down below.
Have a great July, everyone!