It's pretty hard to believe that I've been bullet journaling for over 3 years now and that I'm already going on to my 5th journal. It's always so satisfying finishing a journal but then the ideas suddenly formulate with the anticipation of filling those blank pages of a brand new journal. For me, there is always such a feeling of renewal and promise with starting a new journal and the excitement of watching it unfold from month to month.
And so, with that, I embark on setting up my 5th journal. The journal that I have chosen is a beautiful Limited Edition Leuchtturm 1917 A5 journal that was released last summer in part of Ryder Carroll's 5th Anniversary Edition bullet journal. The cover is white with stunning rose gold orchids drawn by the lovely Federica (IG: @feebujo) and honestly, this might be my most favorite journal to dive into yet.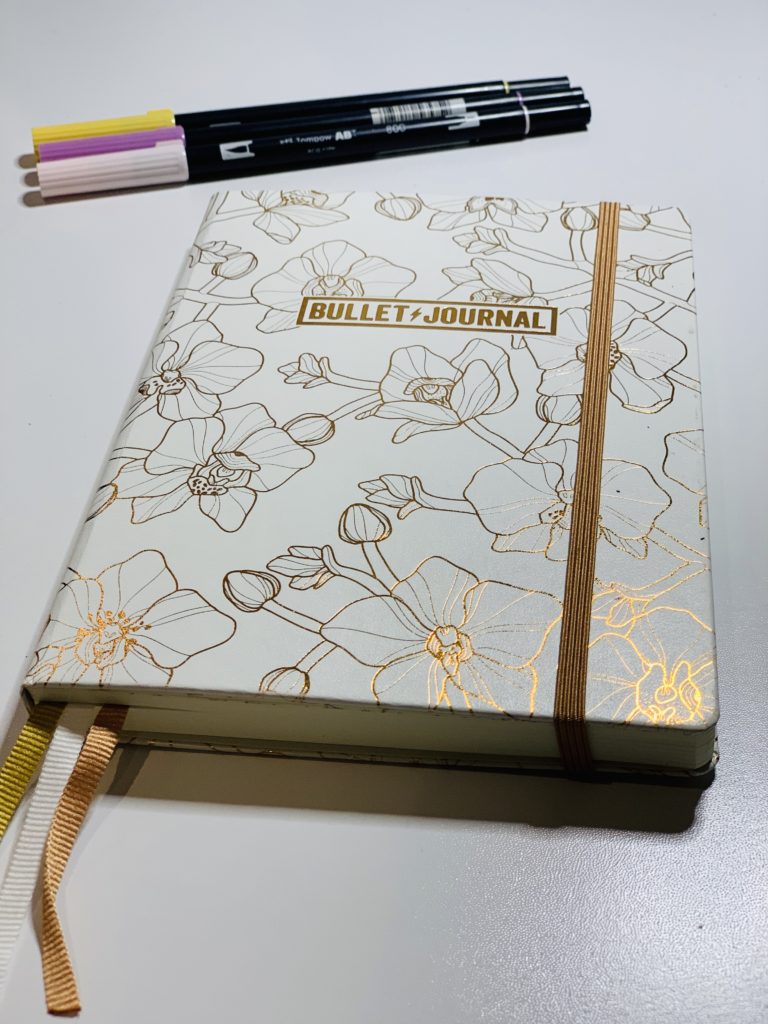 Once I had the notebook selected, the cover alone made it pretty easy to figure out a color scheme and theme. So what I decided to do was to carry the orchids inside the bullet journal and voila! Theme decided. Orchids it is. Not only do I have a slight obsession with orchids at the moment, but I felt it was feminine and sophisticated. It was overall a pretty easy decision.
So first up was the key, and in this case because it was an official Bullet Journal, the key was already included in the inside cover. All I did was add a few more signifiers and decorate the border with orchids. The colors I used were Tombow Dual Brush Marker colors #673, 800, 991 and 992.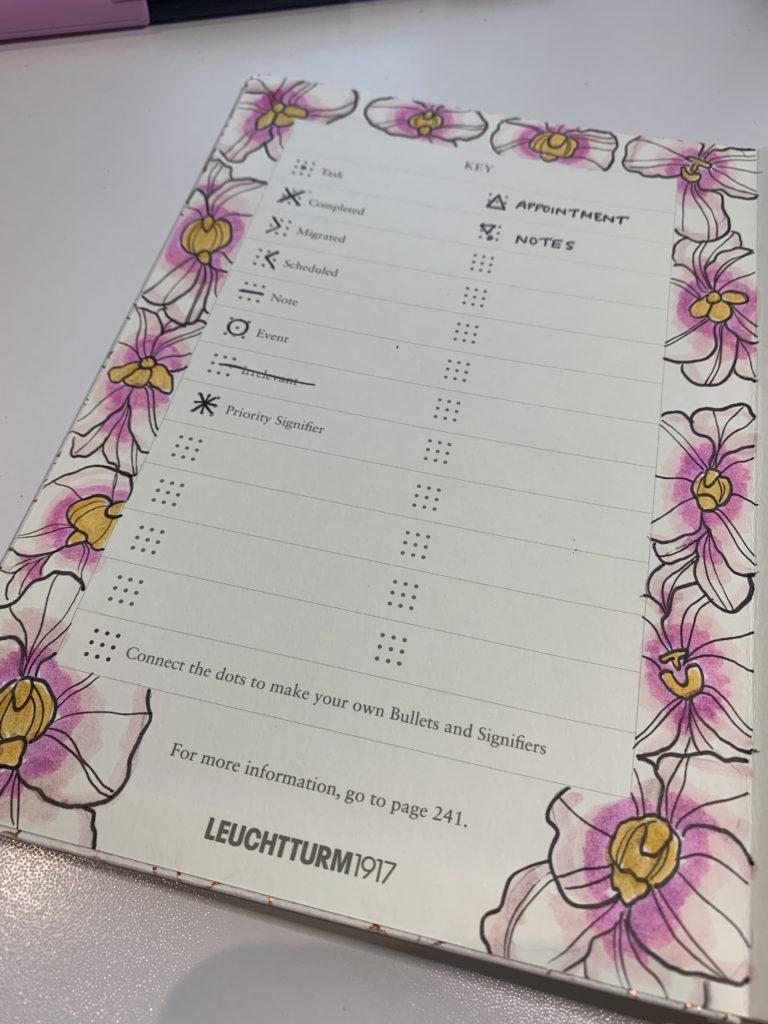 Next up was the future log. Again, because this was the official Bullet Journal, there were already 4 pages dedicated to the future log. I drew orchids on the bottom of the pages, then I added 6 months per spread in a vertical layout. This particular layout has always served me well because not only is it simple, but it allows for plenty of room in adding future events and appointments.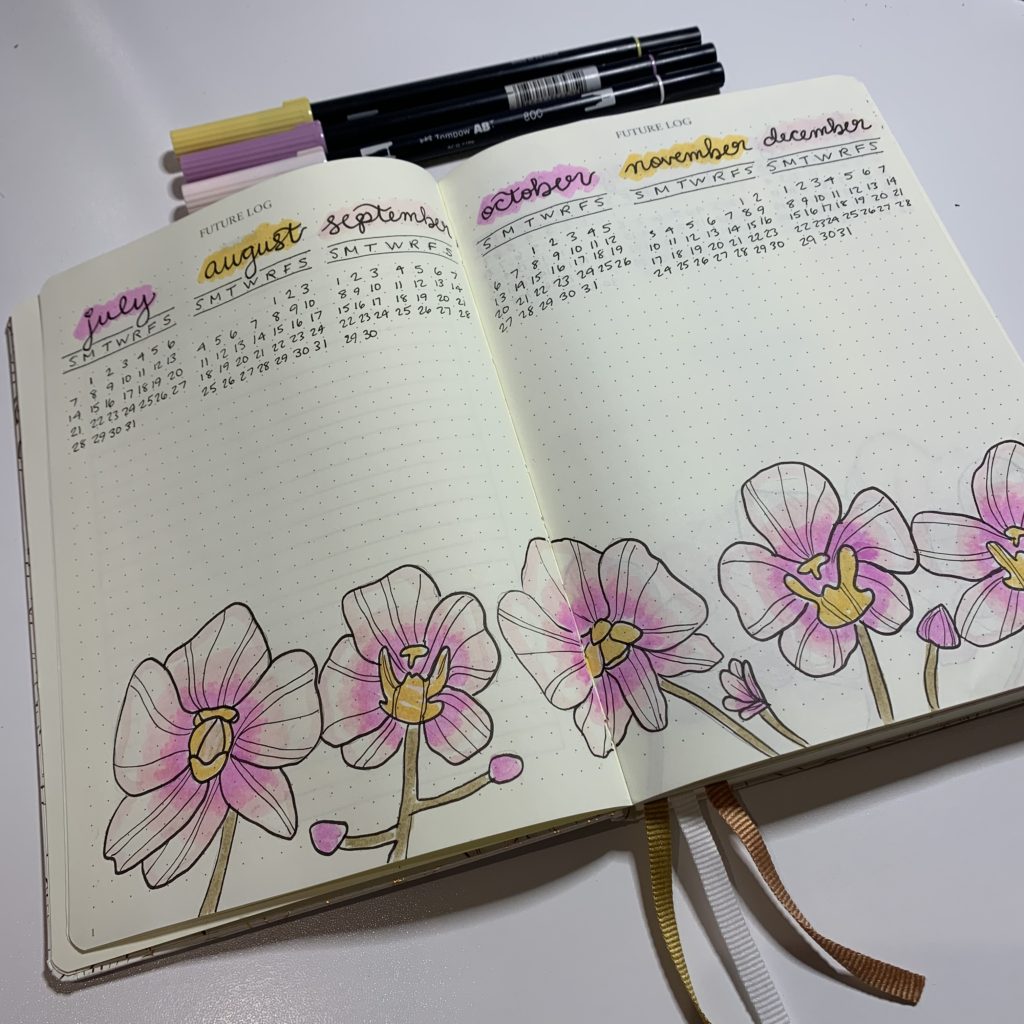 Next up was my tried and true spread and one of the only spreads that has made it in each bullet journal, and that is my Master Grocery List. Essentially this list features ALL the things that you could possibly buy at the supermarket on any given week. This serves as a reference page where you basically comb through each category and select the things that you need to buy each week. This collection page has been a God-send in the sense that these days I rarely forget to buy things when going grocery shopping. You can also tweak this list according to your lifestyle (vegetarian, have small children, etc.)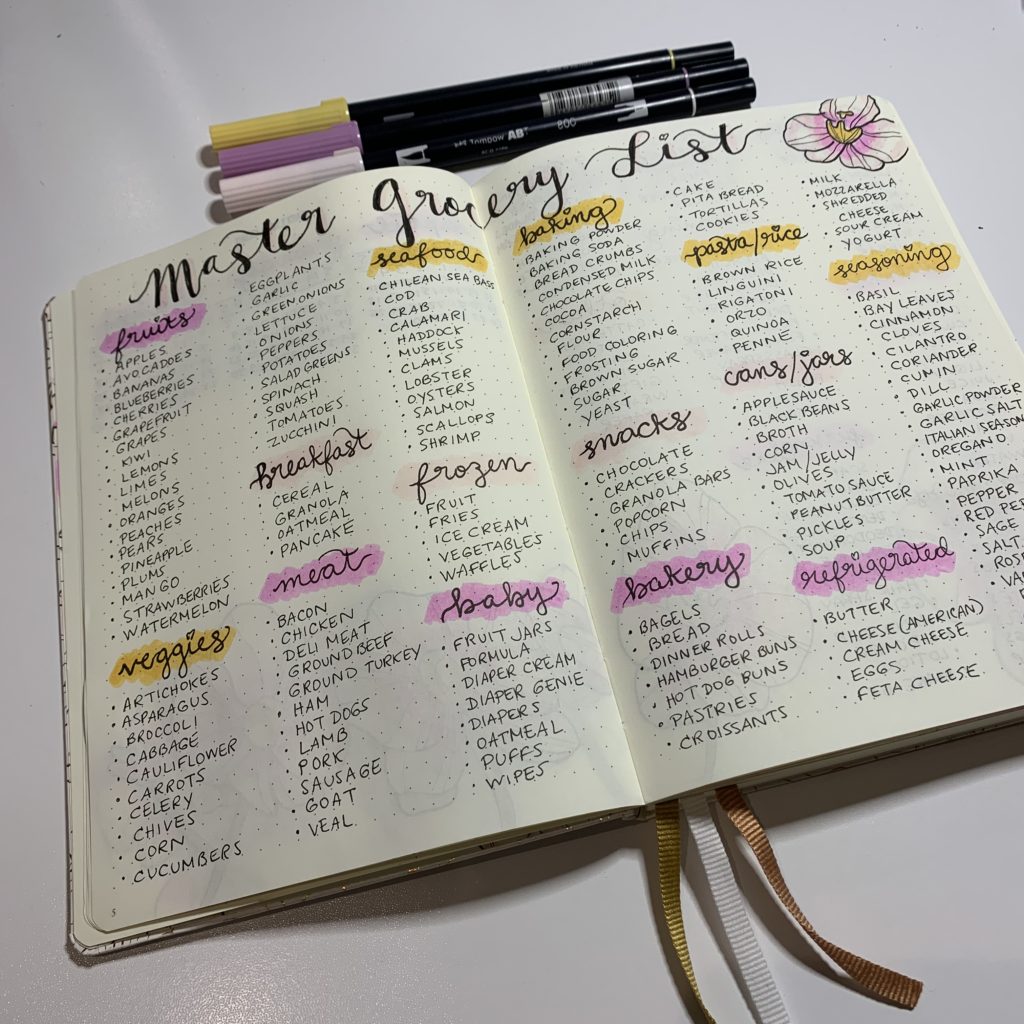 My master grocery list takes up 3 pages in my journal so I leave the 4th page as a place where I can place my shopping list from week to week, usually in the form of a Post-it Note or a list that I have from the Target dollar-spot.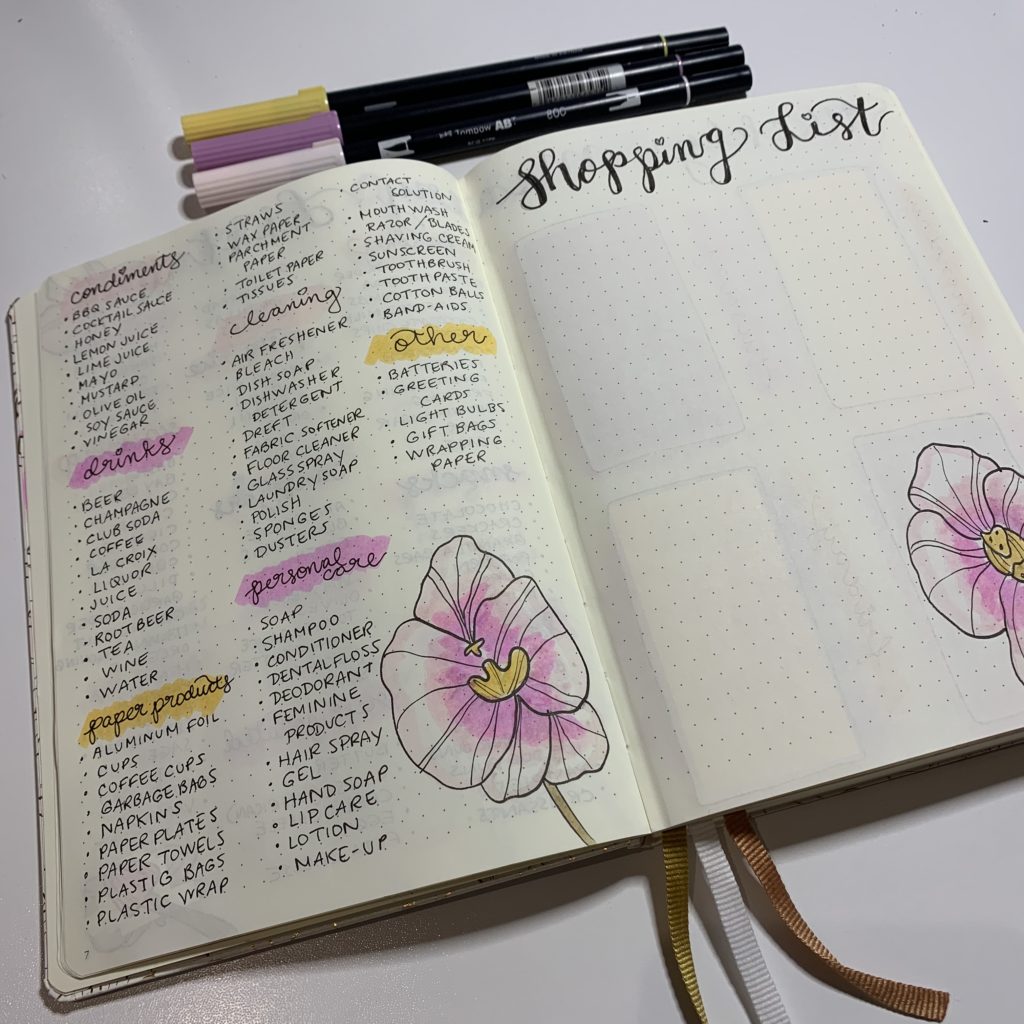 Next is a reinvented spread that appeared in my very first journal but for whatever reason never made its way into the others.. until now. I revamped my Weekly Meal Planning spread and kicked it up a notch. I took your standard Post-It notes and cut them in half. I then made a list of all my go-to meals, but instead of just writing the meals, I also included the list of ingredients I would need in order to prepare them. That way when I'm making my grocery list, I can also go through the meals I want to prepare that week and see what ingredients I'm missing. I'm hoping this makes meal prep that much more seamless and I have a feeling that this will be the case.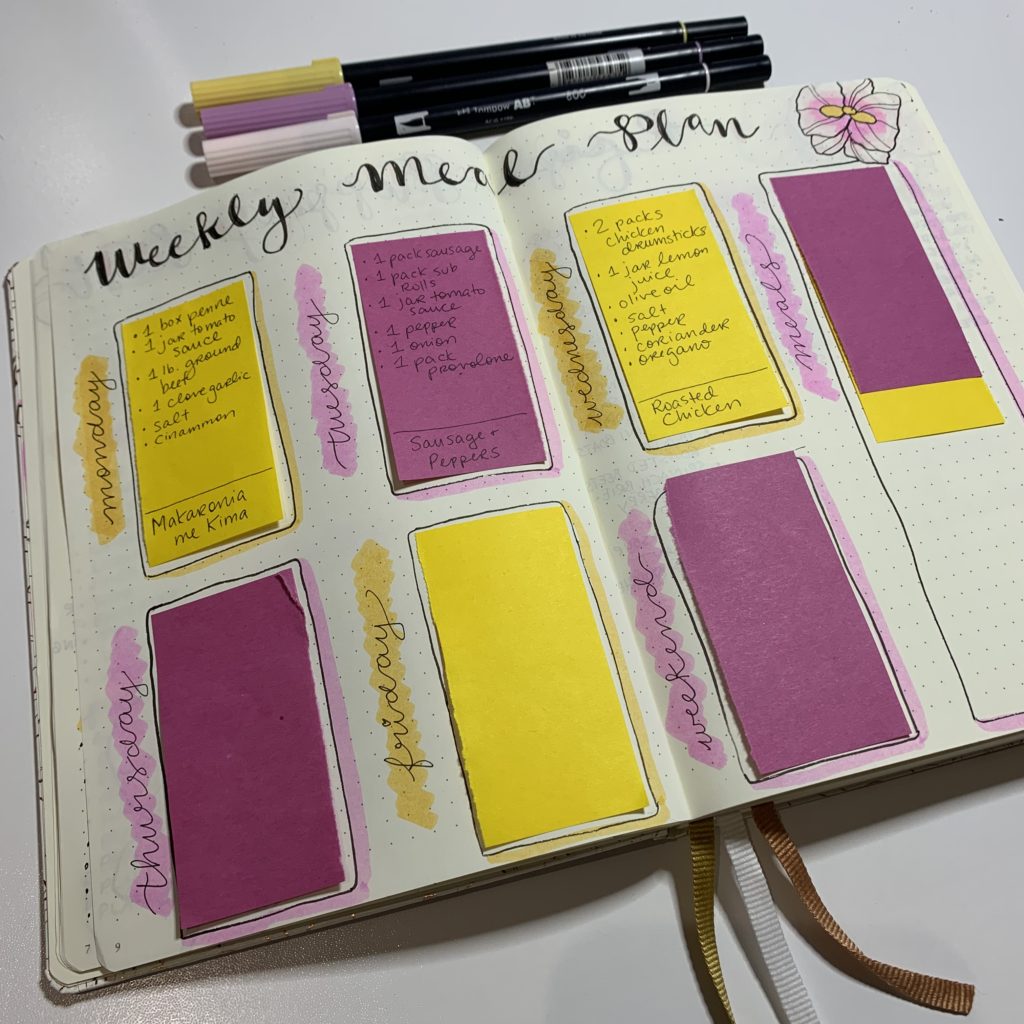 Since most of my collections deal with food and meal prep, my journal continues with a recipe log. This is a log of all the recipes I make frequently and provides instant inspiration when I feel like I'm getting stuck in a cooking rut. This has been a spread that I've migrated from journal to journal since the beginning.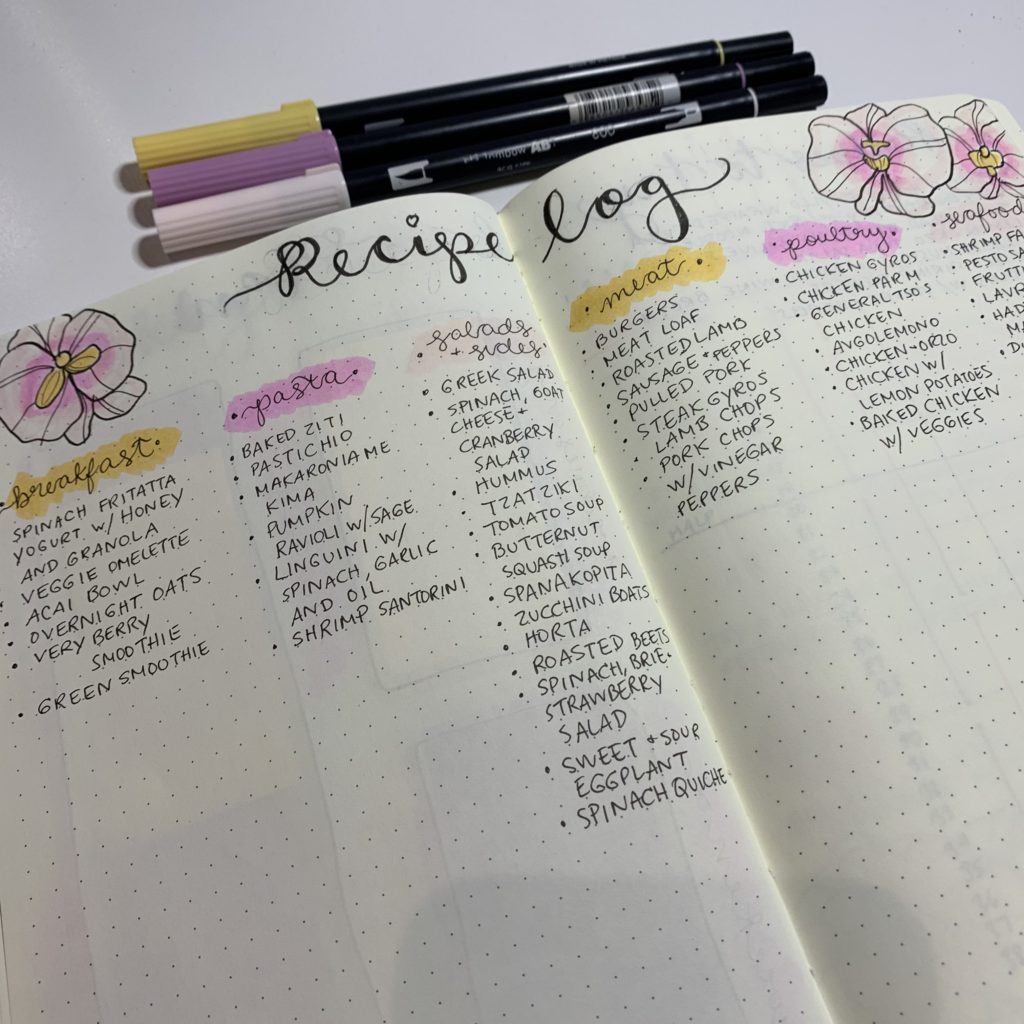 The two collections in this spread are recipes that I want to try and a grid spacing guide. The grid spacing guide was totally inspired by Amanda Rach Lee and I included it in an effort to help me better map out spreads. I'm hoping this reference page will make planning a lot easier.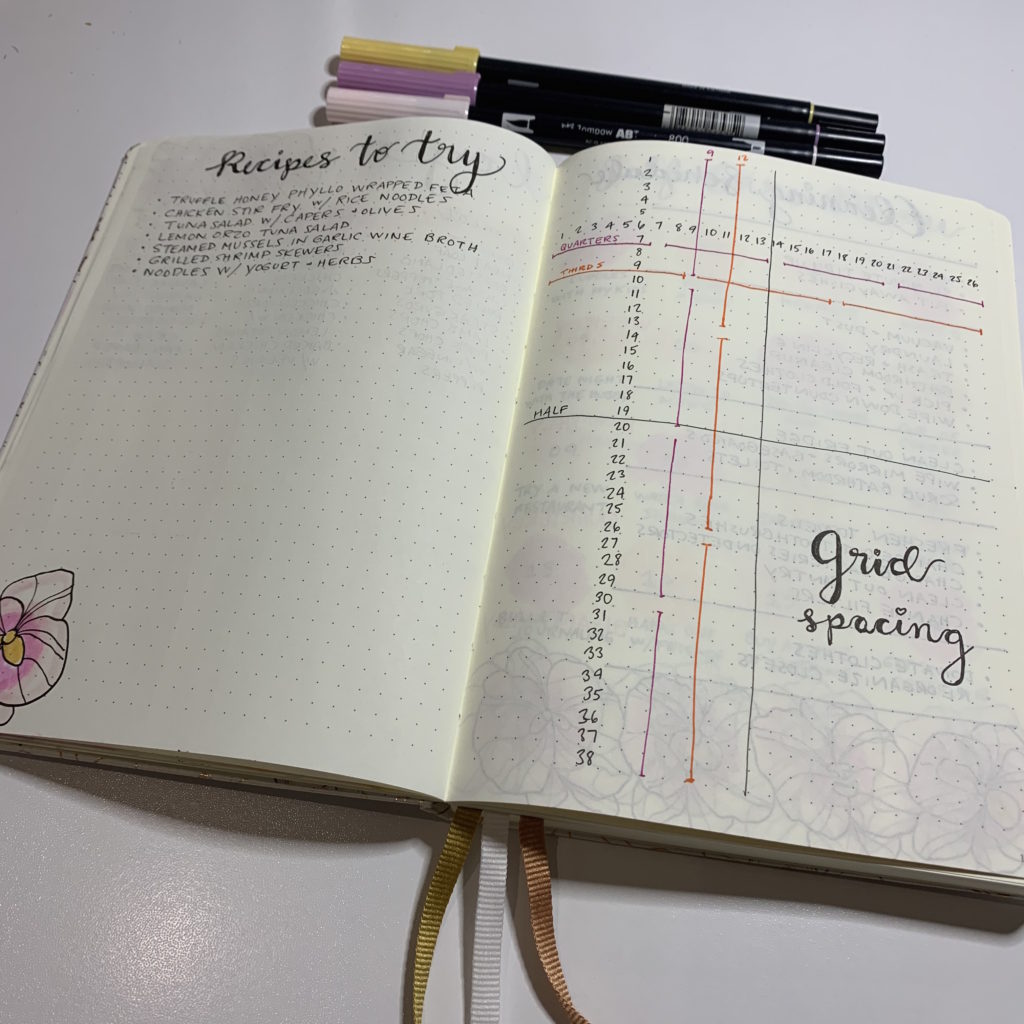 The next two collection pages are ones that I'm migrating from my last journal. They include a cleaning schedule to help me stay track on cleaning around the house. The other is a Self Care Menu that is basically a list of little pick me ups that promote self care and treating yourself if you feel stressed. These both served me well that I had to include them in this journal as well.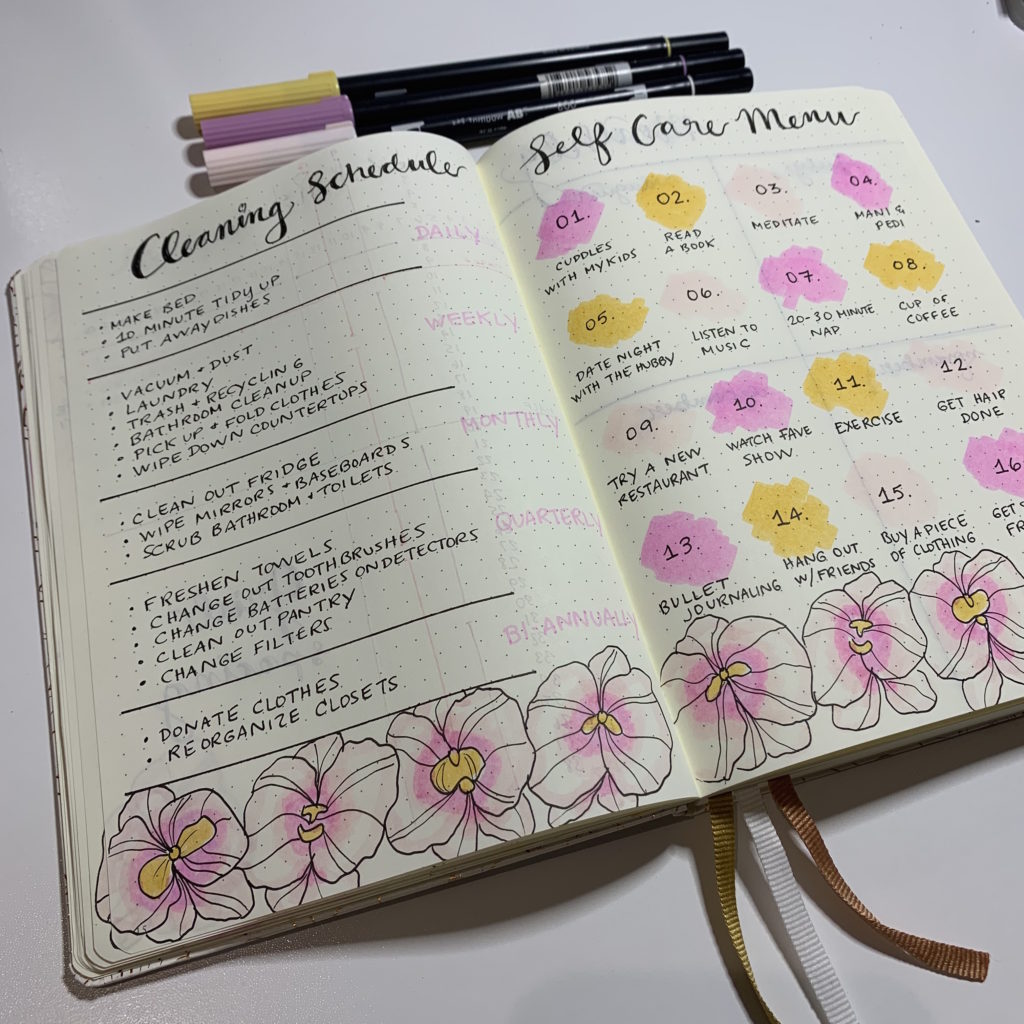 My most minimal spread was a Monthly Themes page. I didn't want the colors of the orchids to interfere with future color combinations so I kept this super minimal. This is just a place for me to doodle and brainstorm color combination for future monthly themes.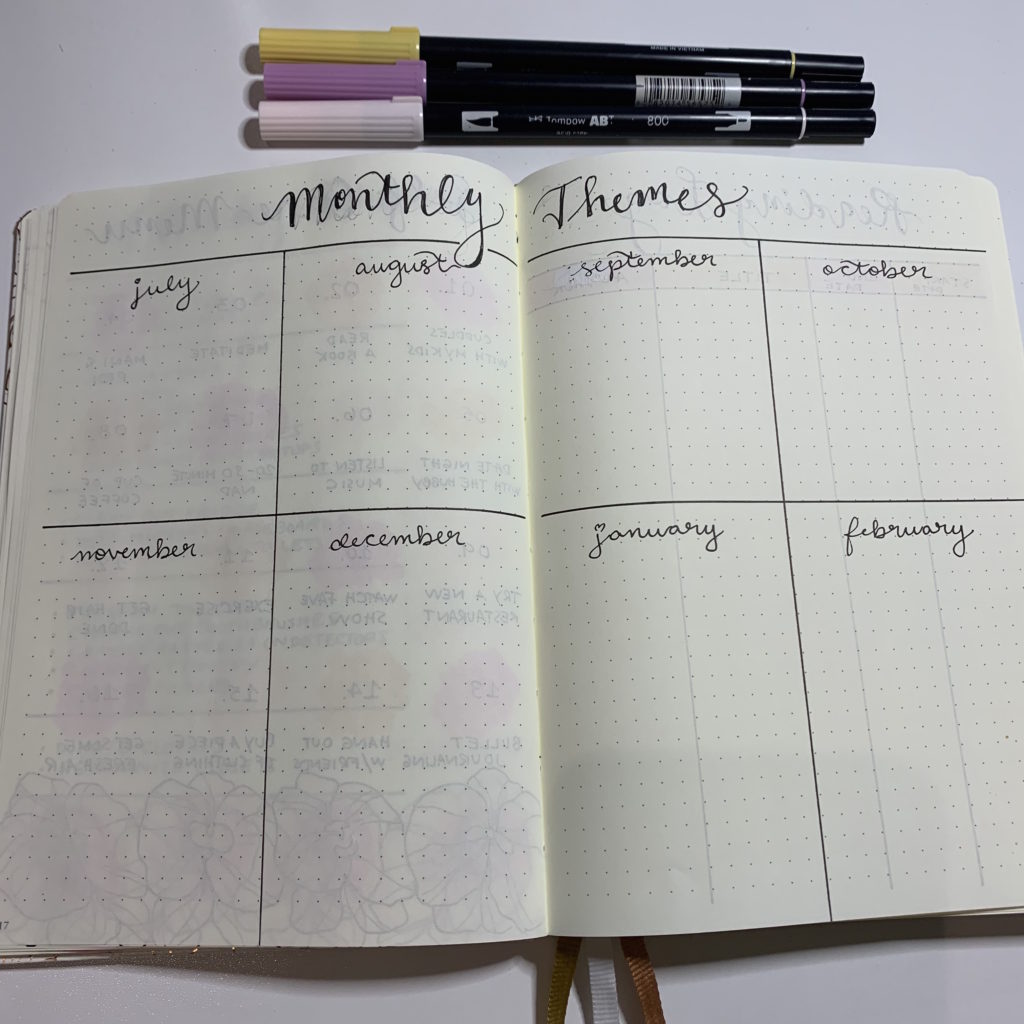 And last but not least, the FINAL collection page that I've included is my reading log. One of the goals I had made in the beginning of 2019 was to read more, so this is just a way for me to keep track of the books I've read. This is nothing fancy by any means but simply a place where I can log books I've read throughout the year.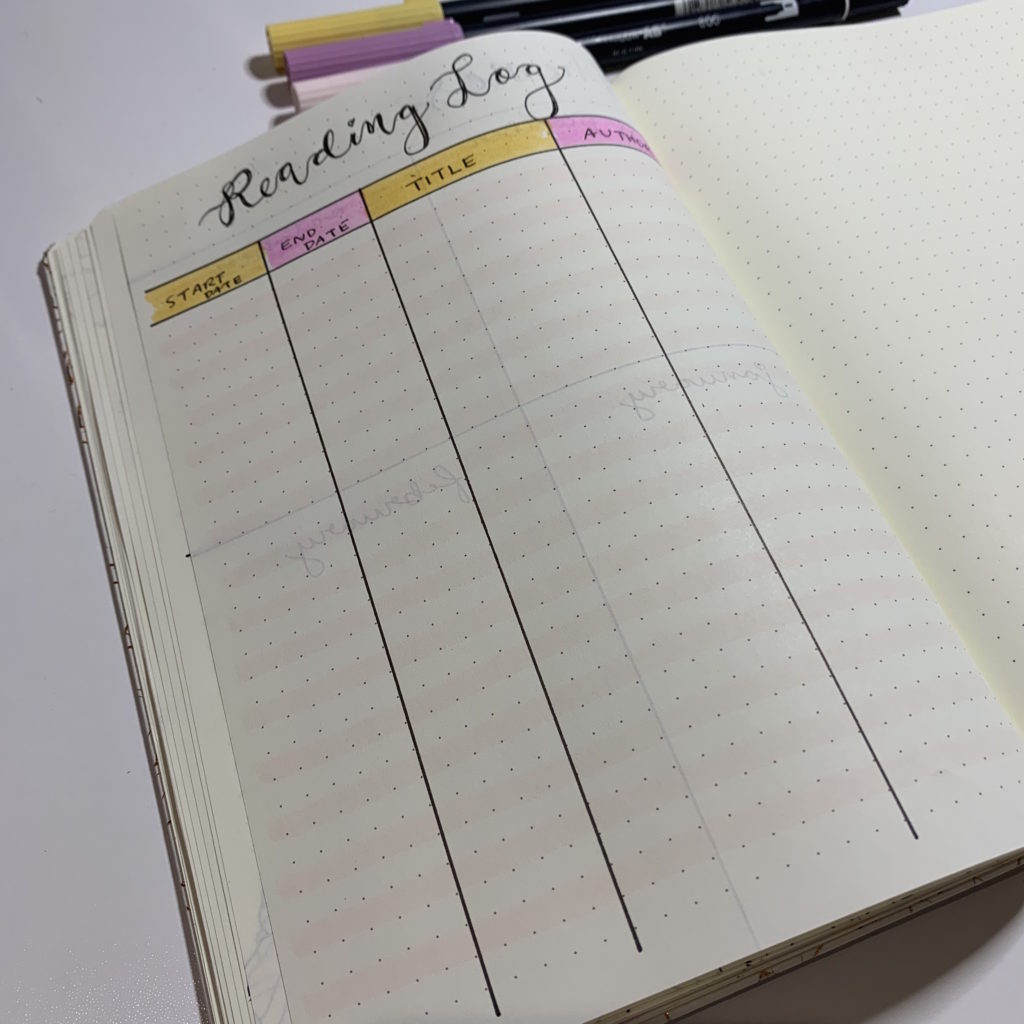 So there you have it- my fifth bullet journal setup! If you've made it this far, I seriously applaud you! But nevertheless, with every journal, I'm truly excited to see how this one will unfold and what creative ideas I come up with. There's nothing more rewarding than seeing your journal take shape and I hope you follow me on yet another journey and chapter of my life.