I'm so excited to be back to share with you what journals I'll be using for my 2021 journal setup. First off, I'd like to wish everyone a happy new year and I'm hoping you're having a good year so far. My apologies for not posting on here or my YouTube channel. I think we are all in agreement that 2020 was just a challenging year as we all had to adjust to a new way of life. Having two small children at home, they are in need of CONSTANT attention. Plus with my oldest being in Kindergarten and doing remote learning, I've turned into his personal secretary. Before you knew it, days blended into months and I was beside myself.
2020 was a year of major personal growth and the one thing that helped with the uncertainty was my bullet journal. Where many fell off the planning wagon, I found myself embracing it more than ever because it became my constant. It was the one thing that didn't change (although my plans did). Nevertheless I adapted and forged on and I'm so glad I did. While I lost followers on both IG and YouTube for not posting enough, it didn't matter. I couldn't put that kind of pressure on myself. In the end, I documented my spreads just to prove to myself that I KEPT GOING. Those who have continued to follow me, I thank you and appreciate you more than you know.
Journals I'm using
Here I am, almost five years into bullet journaling and I feel as revitalized as ever. I've gotten the creative juices flowing, and I'm embarking on another chapter of my bullet journal journey. The journals I'm using for my 2021 journal setup are: The official Leuchtturm Bullet Journal in blush and the Hobonichi A5 Day-Free journal for more creative journaling.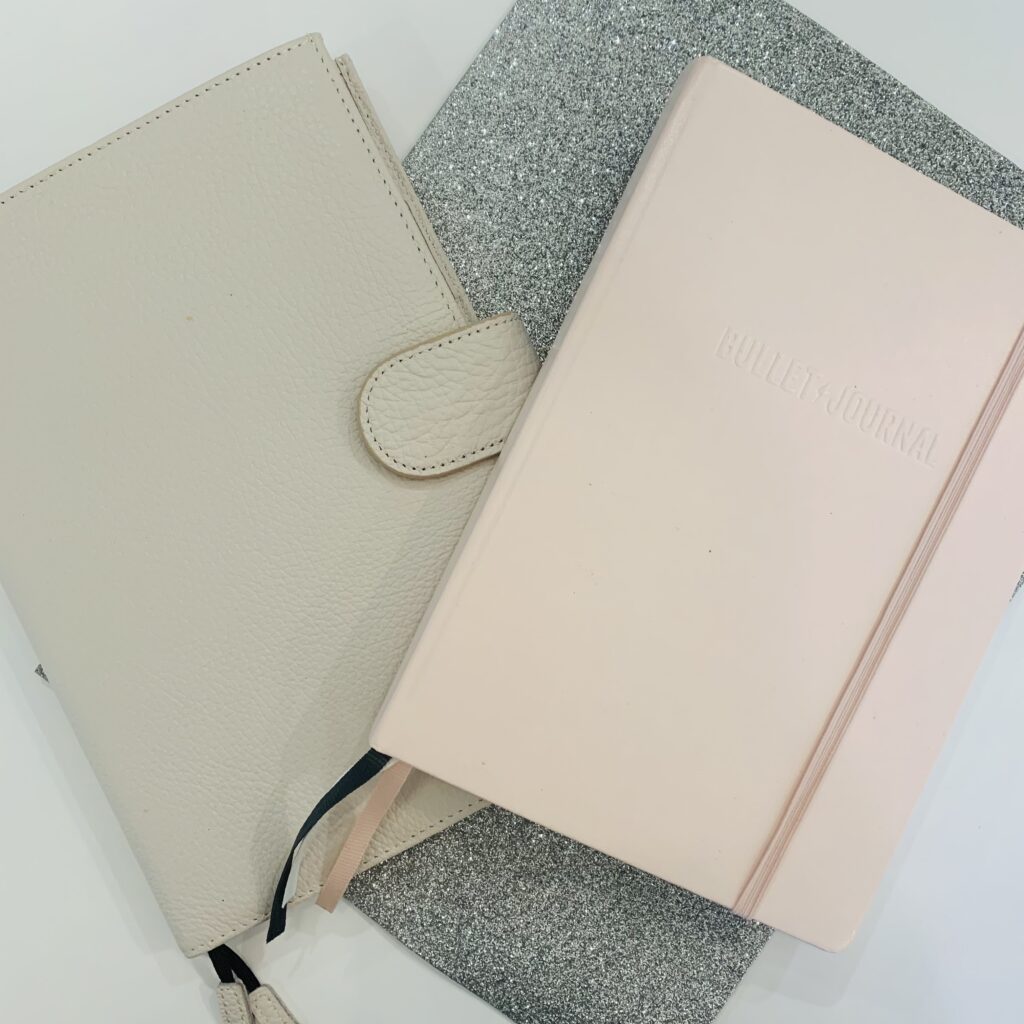 Bullet Journal – Word of the Year
For my bullet journal, I wanted to take the guesswork of what my themes were going to be each month. Because let's be honest, that alone takes too much time to think about as a stay at home mom. I got to thinking about my word of the year and the word that kept appearing for me was BLOOM. From there it just clicked– I would use my word of the year to be the inspiration for a yearly theme that would involve florals. I had done a doodle challenge a few years ago that involved drawing all types of flowers and I LOVED it, but I could never understand why I never practiced more. This was my chance to kill two birds with one stone. I could practice different flowers throughout the year and take the guesswork out of my monthly themes: DONE!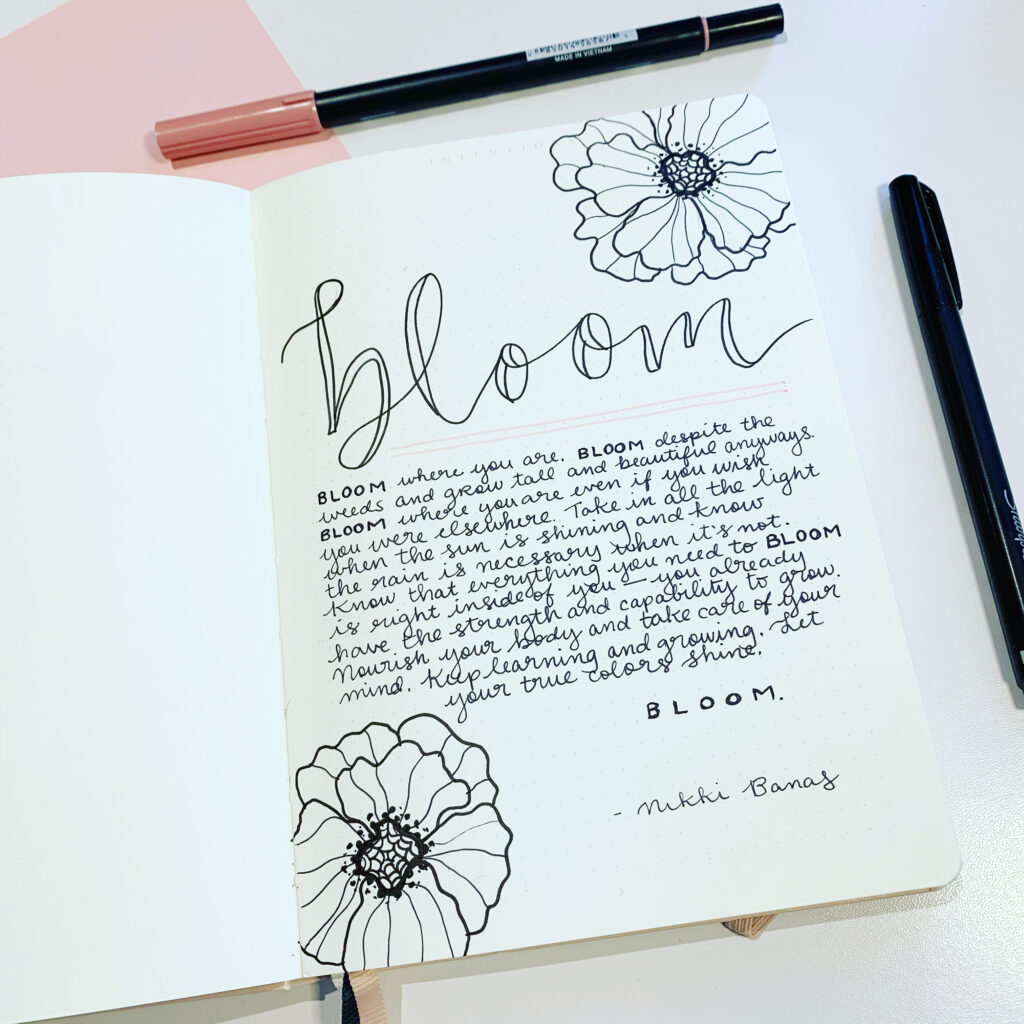 Collection Pages
Another thing I wanted to do for 2021 was to keep my bullet journal as minimalist as possible. I didn't want to add "fluff" collection pages for the sake of adding pages– but to make it more "bare bones". My collection pages are limited to a future log, yearly goals, reading log, my word of the year, and monthly themes.
January 2021 Spreads
I also wanted to make my weekly spreads more efficient with adding more things in. For example in one spread I can glance at the weather, moods, affirmations, meals, my tasks and weekly to-do lists. I wanted more clean lines and the simplicity of getting the most out of each page.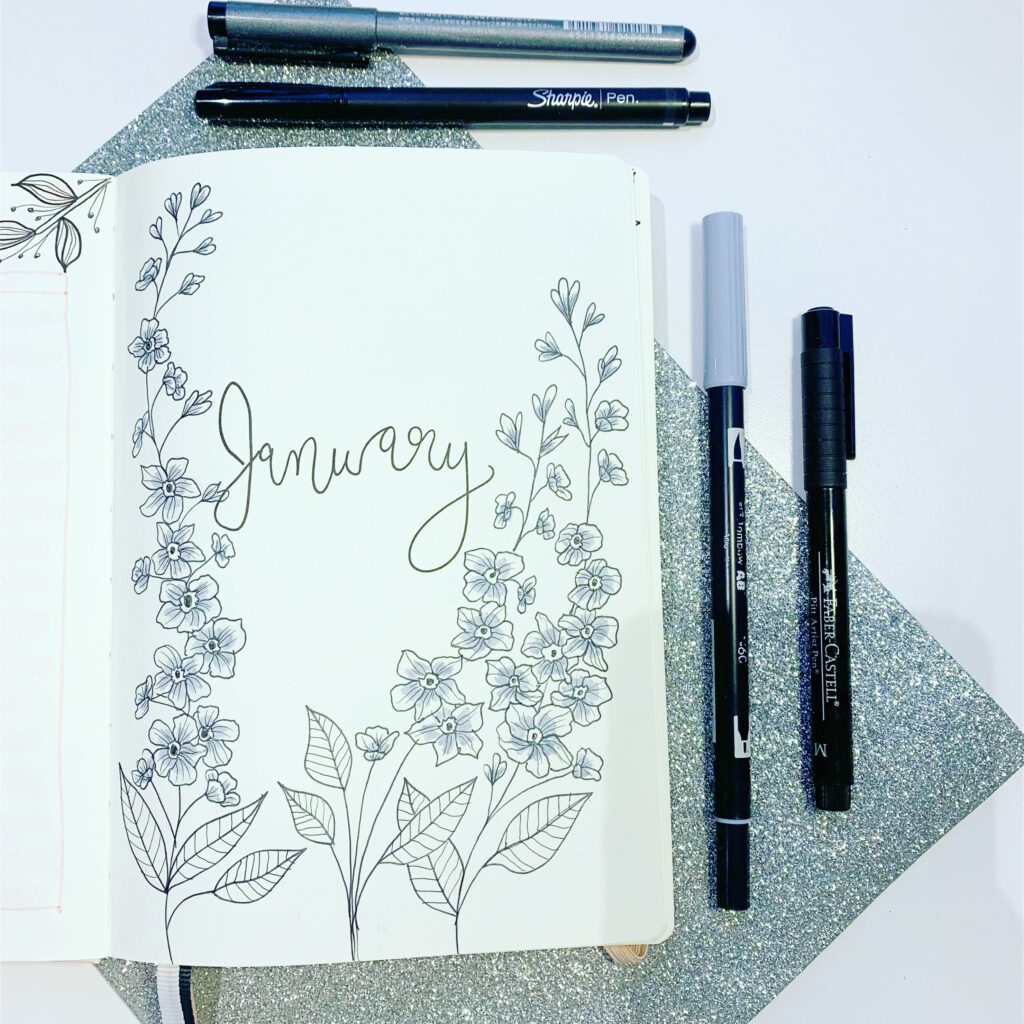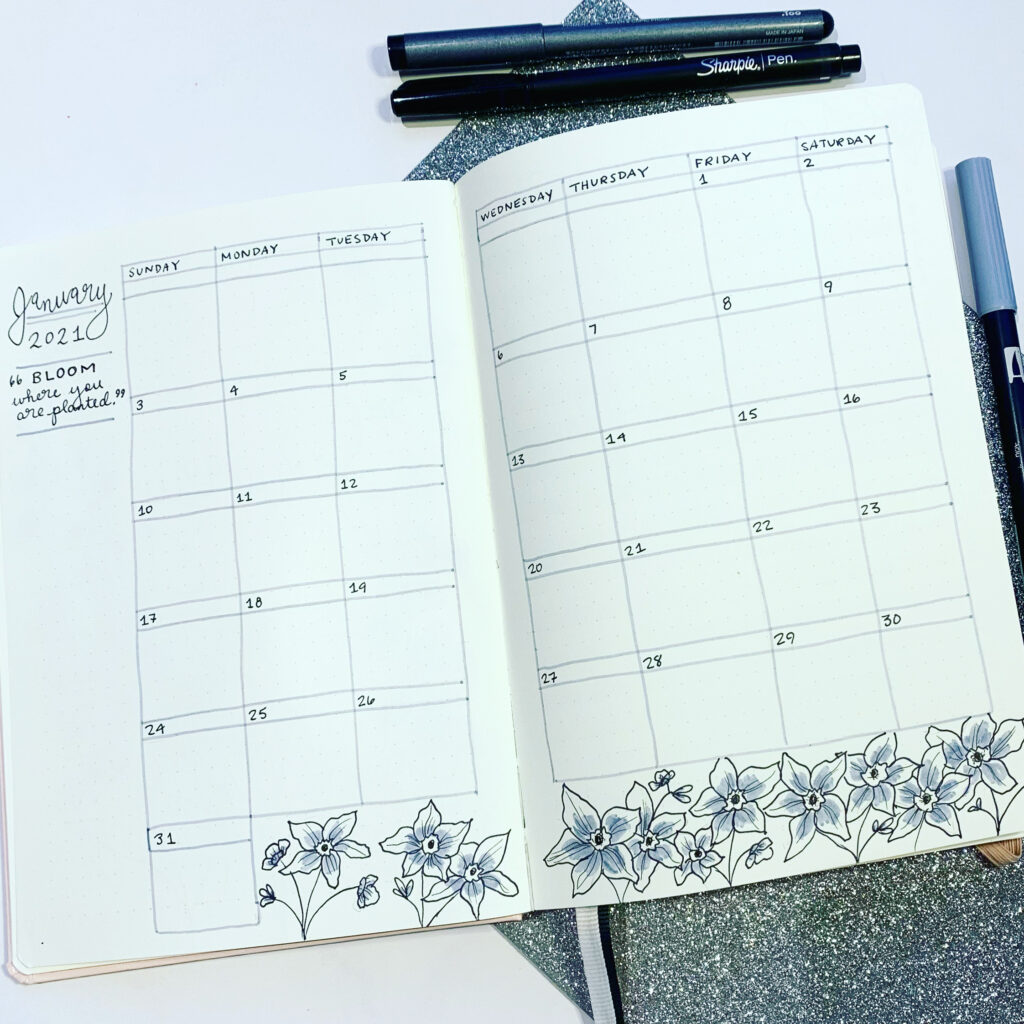 Hobonichi Day-Free Journal
The second journal I'm using in my 2021 journal setup is the Hobonichi Day-Free journal. I didn't want to be confined to pre-printed dates so I knew it was the perfect choice. This is a place for my more personal journaling and will replace the Hobonichi Weeks that I've been using. The Hobonichi Day-Free allows for a bit more space for writing and doodling. I plan on using half the page per day and it's perfect for me. The gorgeous leather cover that I found on Amazon compliments my bullet journal perfectly. There are many pockets for storage and the quality is pretty amazing for the price.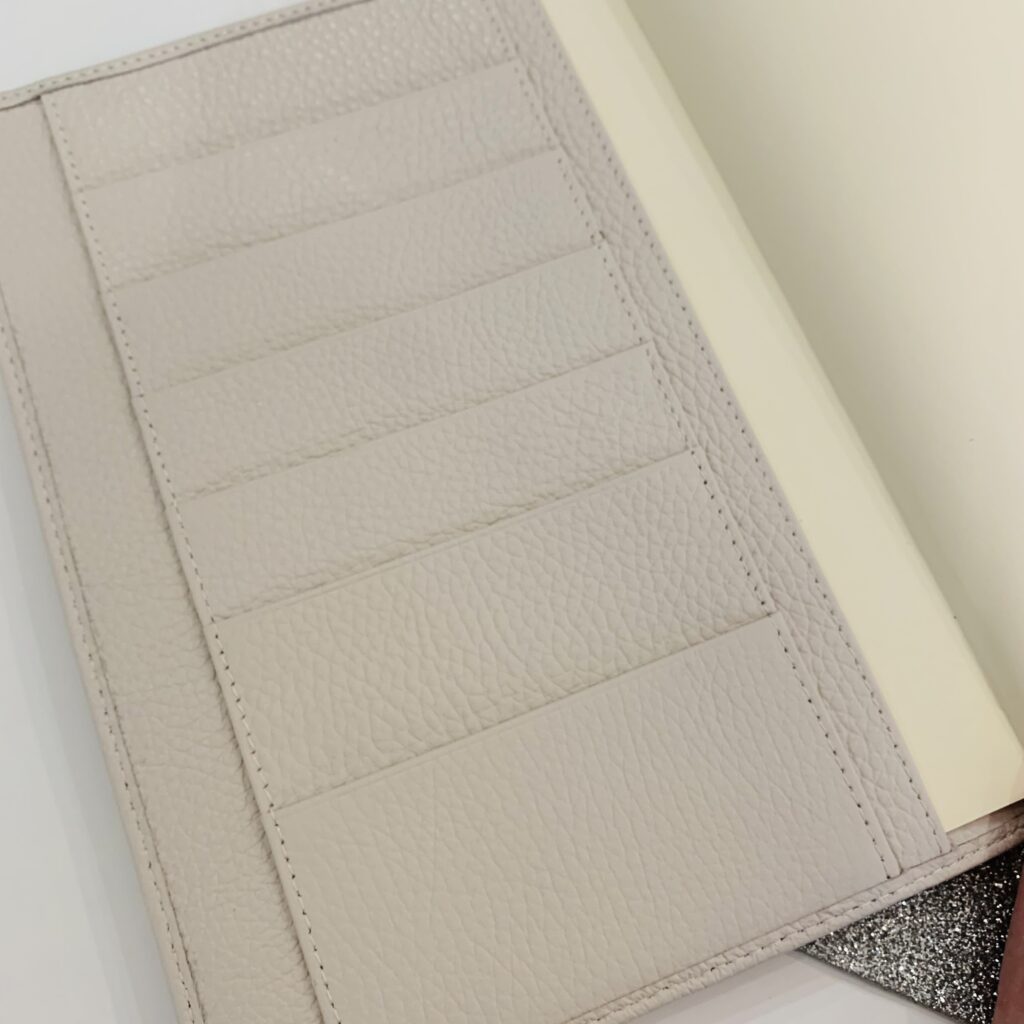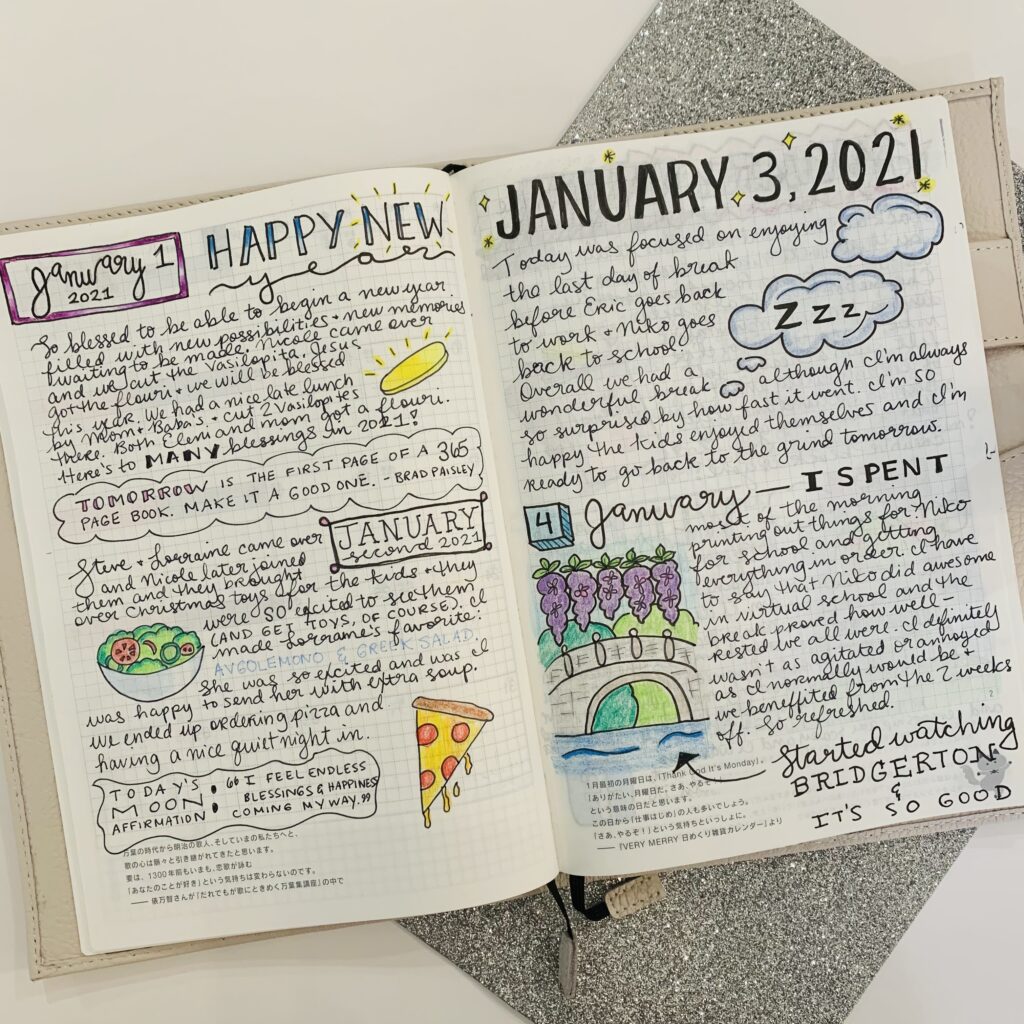 So there you have it! My journal setup for 2021 explained! I'm confident that this system will work out well for me and will make journaling more enjoyable. For all the supplies I'm using please also check out my supplies page if you are interested in anything I'm using. I'm excited to get the creative juices flowing again and document my life in a way that is fun yet functional. Happy planning everyone!