Hello and welcome to my first ever blog post! Today I will go over my April 2016 bullet journal set up, in the hopes that this system will keep me more organized. I often find that I don't have designated places to put certain tidbits of information and that's why the bullet journal system appeals so much to me. Being able to have the flexibility to ultimately customize your bullet journal to include anything you want is just AMAZING!! If you haven't seen my bullet journal set up video, just click below.
HIGHLIGHTS:
Sketchnote Ideas:
I loved the idea of having a reference page for some of the headers, lettering, and frames that I wanted to use within my bullet journal. If I'm ever stumped for ideas, this page will provide instant inspiration in how I want to decorate my pages. Major inspiration was provided my The Revision Guide and Christina77Star.
Year at a Glance – Future Planning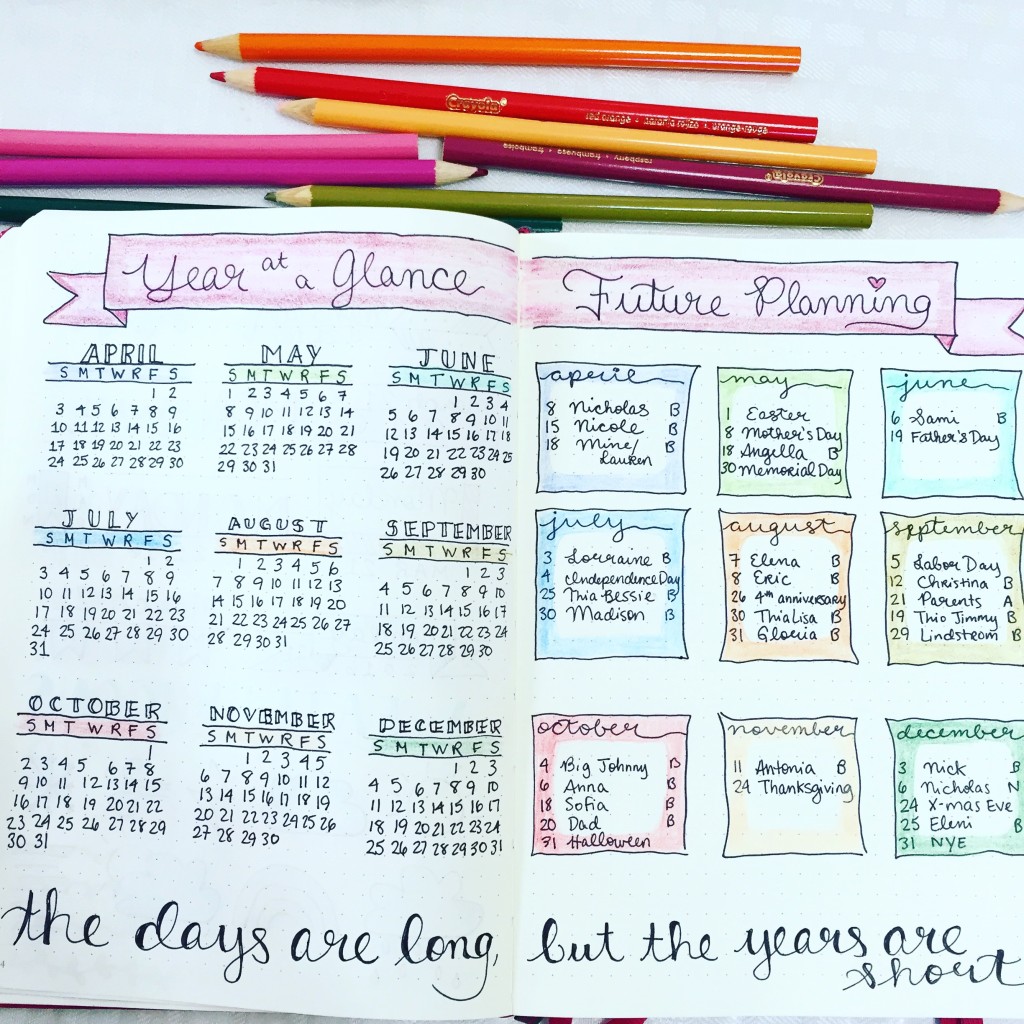 Since I started this for April, I only included April through December in this layout (I hope this journal lasts me that long). This is just a simple layout that features birthdays, anniversaries and holidays but serves as a great reference point for important dates.
Shipment Tracker // Instagram Inspiration
Inspired by Kim of Tiny Ray of Sunshine, the shipment tracker is a great way to track shipments and know what happy mail you're expecting. I especially love the page dedicated to Instagram inspiration, which helps me keep track of Instagram pages that provide such sources of inspiration for me. I've broken them down into accounts for bullet journaling, Erin Condren planner pages, and hand lettering accounts. I also find the space for #hashtags to use is so helpful when I'm posting on social media, as it makes sure I'm consistent with the content I'm posting and that it reaches my target audience.
Snapshot of April 2016 // April Tracker
Inspired by my Listers Gotta List challenges, I'm using the template for what I'm into at the moment. I'm including what I'm reading, watching and currently listening to. This is great to look back on to see what I loved at any given time. The April Tracker will keep track of habits I want to maintain and at the end of the month, I'm hoping that I will develop better habits. The ultimate goal is to become a better version of myself, and this will just be an effective tool in helping me to achieve that.
Recipe Log
This idea was a huge hit on Instagram and for that, I'm so grateful. Inspired by Christina77Star, I came up with what essentially is recipe log, with all the recipes I've ever made that I could think of off the top of my head. I broke the recipes down by category, and whenever I'm stumped for ideas, this is a great reference page for instant inspiration! I'm planning on making a similar page for desserts as well!
April Monthly View
Inspired by Kara from Boho Berry, I'm hoping that this monthly view will work, as it allows me to fit multiple events in one day. It also leaves a place for monthly goals which I also like. I went with an "April Showers" theme and I love how the Tombow markers worked so beautifully in this spread.
So that's what I have as far as my setup goes for this month. Check out my Instagram, for my progress throughout the month. Also, stay tuned for an April recap of what did and didn't work in my bullet journal. Thanks for stopping by!